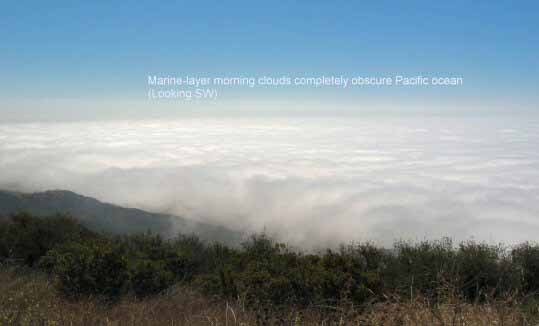 above: 2004-07-11 Parker Mesa Overlook-Marine-Layer 1600-ft looking SE from Topanga State Park. Note how different the weather is from yesterday's shot (above) at roughly the same time. From the Eagle Rock shot later the same day (and based on the weather later this same day), afternoons often "burn off" the marine layer.
More discussion on Los Angeles weather and "smog"
There is a popular misconception that the haze that usually plagues this area is mostly pollution-based smog. By all means, there is never an excuse for smog -- the sooner humankind is able to utilize cleaner sources of economically-viable energy the better! That said, the visibility-reducing LA haze is, in fact, mostly comprised of the marine layer (not auto or industry emissions), as shown in the above photographs.
The depth of the Santa Ana winds matter. They start out high aloft and work their way downward. Sometimes, those Santa Ana winds never get below about 1500 feet (above mean sea level, as shown above). Thus, a shallow marine layer persists. A very strong temperature inversion (where temperature increases as one goes higher in altitude) prevents much mixing of air. Hence, haze is present in the valleys and basin.
Predicting Santa Ana Winds
Predicting Santa Ana wind events, like predicting for rain, can be tricky several days in advance. There are weather patterns that produce the northerly winds that are dependent on accurately predicting the locations of a high pressure/low pressue couplet. This couplet needs to be of sufficient strength to induce relevant wind. If you've read James Murakami's discussions regularly, you may know that computer model forecasts often disagree on details of the wind flow pattern. Even when a model forecast is consistent for several days, if it's well in advance of the actual date (a week or more), sometimes the model appears to "update" itself a day or so before the concerned date.
There are many weather websites that show predicted wind flow patterns for the lower U.S. You want one showing "surface" maps. Wind flow is inferred from surface isobars (lines of constant barometric pressure). Flow around high pressure is in a general clockwise fashion (follow the isobar lines). It's counter-clockwise around low pressure (again following the isobars). This rule is applicable anywhere the northern hemisphere (flow is opposite sense in the southern hemisphere). The closer the isobar lines are packed, the stronger the wind is(not necessarily true over the Rockies). A difference of three millibars (a unit of pressure) between the coast and high desert is generally needed for breezy weather (at least in the Santa Ana wind prone canyons/passes). Of course, there are other factors involved in wind forecasting, but this is one such rule. top of page