(above) October 24, 2004: Mount Baldy (aka Mount San Antonio), located on the boundary between Los Angeles and San Bernardino counties, is 50 miles from downtown Los Angeles. This roughly 150-degree panorama is comprised of six (6) separate 4 mega-pixel images. (left: looking South-West; right: looking North -- Pine Mountain (IIRC!) is the snow-covered mountain to the right). On this day (October 24, 2004), the visibility was poor for most of the mountain range below 9000 feet. At the summit, one can see the other, major Southern California mountains. (San Gorgonio, San Jacinto). Click image for larger, 1-MB-sized version.



(above) November 28, 2004: The highest (10,064-feet), snow-covered peak is Mount San Antonio (aka Mt. "Baldy"), visible from the balcony of my (Khurram) home (also home of the Calorie Restriction Society) in Gardena, California. Warren and I live on the second-story condominium and have a fairly good view of the mountains surrounding Los Angeles -- from the western edge of the San Bernardino Forest (as above) to the Santa Monica range (below; Topanga State Park is to the left of the billboard on the left half of the picture):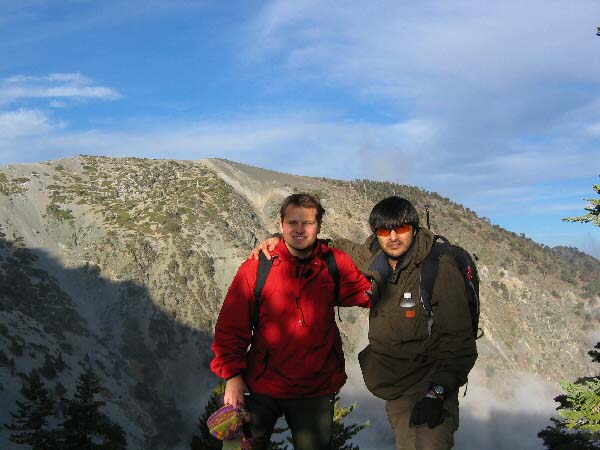 (above) Mount San Antonio (Baldy): October 24, 2004: Dominick and Khurram at roughly 9000 feet. This photo was taken during the descent.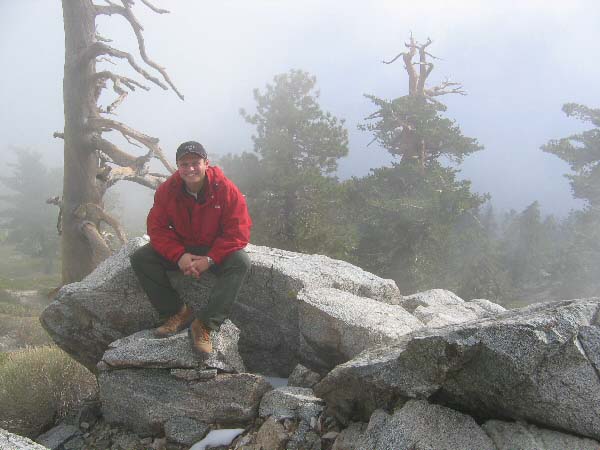 (above) Dominick on Mount Antonio, roughly 8500 feet. This photo was taken during the ascent. At this elevation, the mountain range was still in the clouds. Also at this elevation, we noted the first signs of snow, visible below Dominick'ss feet.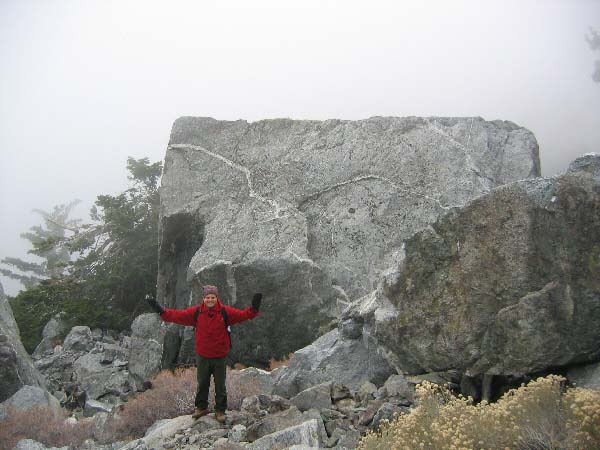 (above) 8500 feet during ascent: Dominick dwarfed by a giant boulder. Some of the boulders have a man-made geometric look. They were all formed through natural, geologic processes.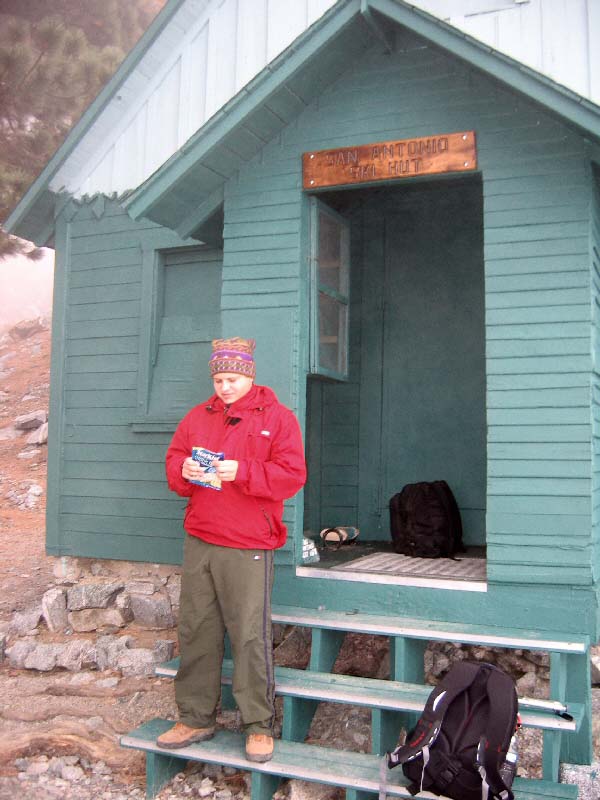 (above) Dominick on the Zone diet, eating tuna. This image was taken at the San Antonio Ski Hut. The Hut, located at roughly 8200 feet, belongs to the Sierra Club and provides a convenient rest stop for hikers. It is also available to campers and lodgers for over-night stays.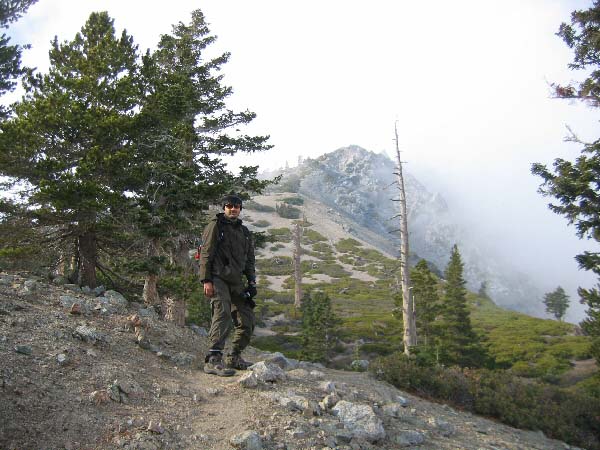 (above) Khurram (me) at roughly 9000 feet. One of the San Antonio peaks is visible in the background. This photo was taken during the ascent.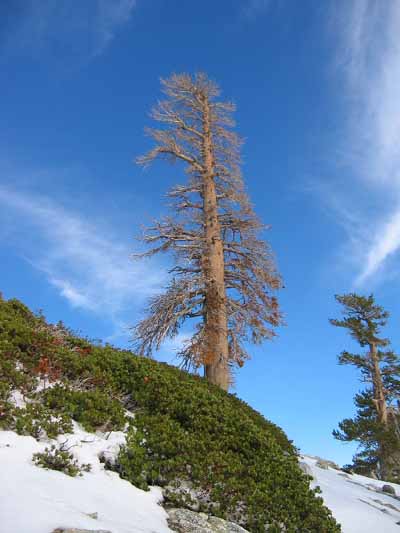 (above) Roughly 9600 feet, 30 minutes from summit (?): Dead tree and other high-elevation flora. The naked-eye appearance of the sky -- at this elevation --was very blue.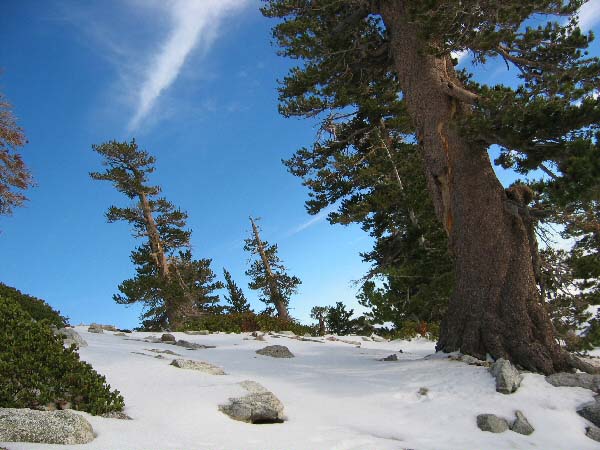 (above) Roughly 9600 feet, 30 minutes from summit (?): More high-elevation flora.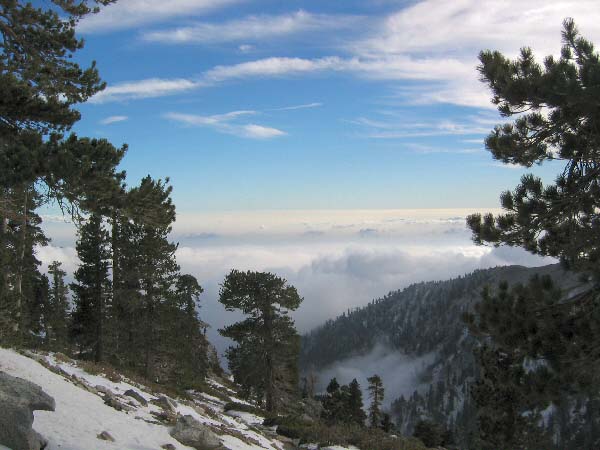 (above) Roughly 9600 feet, 30 minutes from summit (?): Looking south-west towards Orange and San Diego counties, obscured by clouds. Note that even at this elevation, we are between cloud layers: ice crystals-based cirrus clouds above (>20,000 feet) and cumulus & stratus (low-altitude) clouds below. These low-altitude clouds comprise the "fog" visible in some of the lower-elevation images above. Note: this is one of the images that the panorama was comprised of.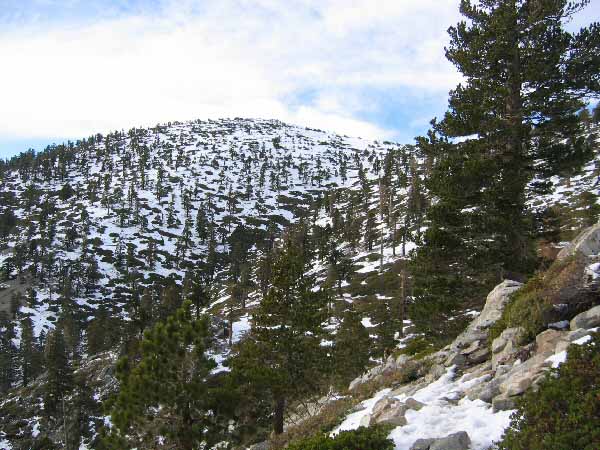 (above) Roughly 9600 feet, 30 minutes from summit (?): Looking North toward what I think is Pine Mountain. Please correct me if I'sm mistaken! Also notice the treacherous foot trail, visible via the footprints in the snow on lower right. If you slip and do not catch yourself somehow, the next stop may be 800 or 900 feet below.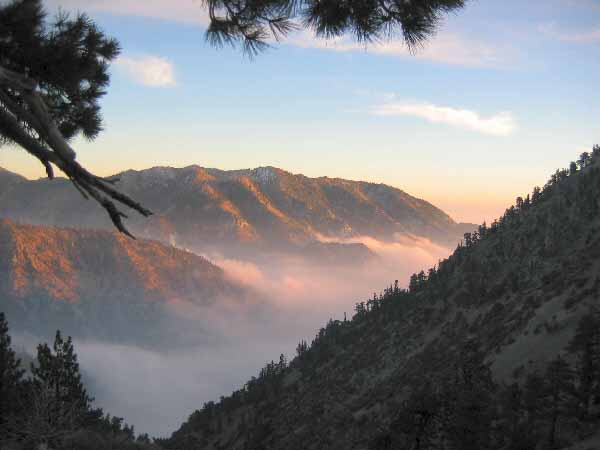 (above) Near dusk at 8500 feet: Looking West into more of the Angeles National Forest, Los Angeles county, California.
Some of these scenes look like ski areas of Colorado, Utah and Idaho. This is Southern California! In the case of Mount San Jacinto, one can ski only four (4) miles from desert-weather Palm Springs! More On San Jacinto and other Southern California mountains here. For a 360-degree tour, visit Virtual Guidebooks.



Folks: no picture can do justice to witnessing these scenes live. Support wilderness areas through contribution and by voting for ecologically-friendly legislations.
Read more about the history of Mount San Antonio at this Sierra Club page.