Mt. Pinos: Summit: Condor Observation Lookout: Los Padres National Forest: Kern and Ventura counties, California
Where is Mt. Pinos? As the bird flies, it lies roughly 75 miles North-West of downtown Los Angeles and about 79 miles from my home in Gardena. In the map below, Mt. Pinos can be seen in the top left portion, the summit identified with a bubble caption. Mt. Pinos is located in the Los Padres National Forest; the mountain's Northern half lies in Kern county while the Southern half is in Ventura county. At an elevation of 8,831 ft., it is the highest mountain in the Los Padres National Forest. (enlarge map)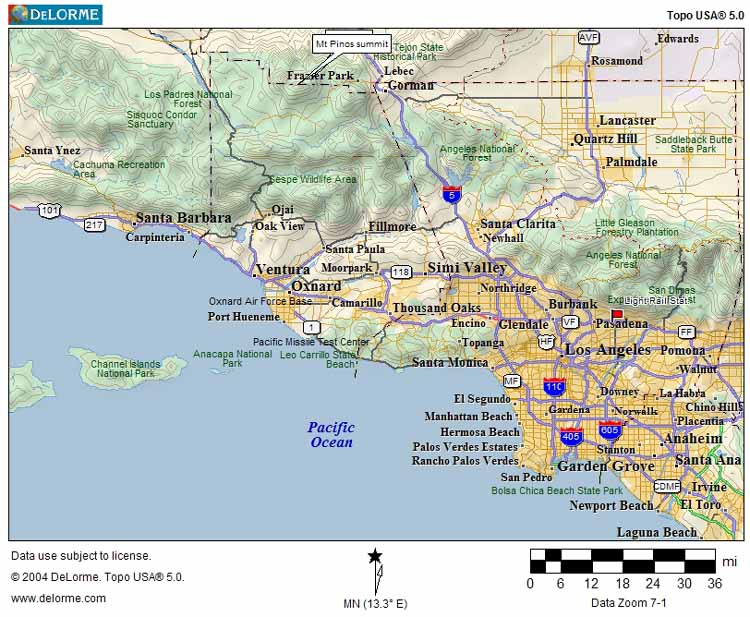 (below) Panoramic view (roughly West to North-East) from Condor Lookout on the summit of Mt. Pinos, elevation: 8,831 ft. (2692 meters). I am pictured between trees under "North" label. Most areas in this image are in Kern county. The image below continues the panorama from West to South. date: 2005-05-11
<< Scroll this image left to right to see all >>

(below) Mt. Pinos panorama from Condor Observation Lookout, elevation: 8,831 ft. (2692 meters). The Pacific ocean -- roughly 40 miles to the South to South-West -- is just barely visible in this early-morning image. Most areas in this image are in Ventura county. date 2005-05-12
<---- Scroll this image left to right to see all ---->



(below) Mt. Pinos: from Condor Observation Lookout facing South. date 2005-05-11


(below) Same location (Condor Lookout), but a few months later. date 2005-09-02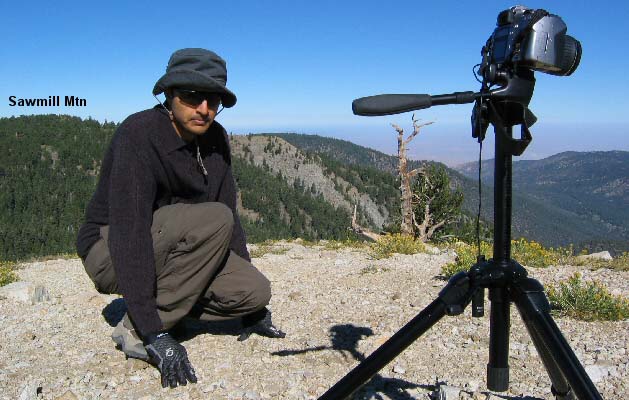 Technical info for geeks: All images -- except 2005-09-02 -- taken with Canon Digital Rebel 300 EOS camera. Focus: manual. All other parameters: manual. Tripod was used.
Links:
Los Padres ForestWatch — a nonprofit organization that is leading efforts to conserve the Los Padres National Forest and surrounding public lands along California's Central Coast. Through grassroots activism, science, and advocacy, we work to protect and restore the forests, hills, streams, wetlands, coastal areas, and biological diversity of this spectacular area.
Los Padres National Forest — USDA National Forest Service: Los Padres National Forest encompasses nearly two million acres in the beautiful coastal mountains of central California. The forest stretches across almost 220 miles from the Big Sur Coast in Monterey County to the western edge of Los Angeles County.
Virtual Los Padres National Forest (Southern) viewpoints — Wilderness panoramas. See what it is like at possible vacation spots, explore remote mountain passes you might not be able to get to this year, or revisit favorite places. Get a feeling for what our remaining wild places are like.