Introduction (this page, see below contents)
A--The Bicycle
2: Fitting the bicycle to your body
B--Riding, Racing and Competing
5: Weather, elevation and altitude
6: Safety
8: Racing skills, strategy, and tactics
C--Training and Fitness
11: Basic principles of training
14: Ergogenics
15: Your unique body type and physique
---
INTRODUCTION
We have been involved in the sport of cycling for a long time, as a bicycle shop manager, a bicycle racer, a racing coach, and a researcher specializing in the physiology of bicycling. Because of my diverse experience, we are often approached by friends, students, colleagues, and complete strangers with questions about cycling. These questions cover topics ranging from buying a first bicycle to fine points of racing strategy to the latest research on nutrition for athletes.
Although there are many great cycling books out there, none of them addresses the whole spectrum of questions that people seem to want answers to. Our goal in writing this guide was to provide all those answers in a way that everyone can understand.
Of course, it was necessary to impose some limits, because cycling is a huge field. Given the differences between road racing, track racing, cyclo-cross, bike touring, mountain biking, downhill racing, enduro, BMX, off-road trials, and freestyle, one could say that cycling is really a number of different sports, just barely related by the fact that they involve two wheels and no engine. This guide is about performance-oriented road cycling-both racing and recreational- because that's what we know best, and roads are where most people ride. But within that field, we've attempted to be as comprehensive as possible, to answer all the questions that you, as a rider, are likely to have.
This guide was written for those new to performance-oriented cycling and those who have been riding for a while but wish to improve their performance. It assumes that you're past the training-wheel stage-that you know how to stay upright on two wheels and know the basic functions of your gearshifts and brakes. But if you already ride for fitness or pure enjoyment, eventually you're going to want to get better: to ride faster, farther, or more efficiently, or become even fitter. If that's the case, this guide is for you.
This guide is also for you if you want to make the jump from noncompetitive riding to racing.
Once you're a skilled road rider, that desire is almost inevitable, because it's nearly impossible to see the excitement of a road race and not want to be part of it. And if you're already an entry-level bicycle racer, hopefully this guide will help you move up a few notches by showing you how to become a stronger, smarter rider.
That's a pretty diverse group of readers, so we've included all the information we wish I'd had when I began biking. We hope this guide answers all your questions about road riding and racing, and helps you get the most enjoyment, satisfaction, and fitness possible on two wheels.
++++++++++++++++++
Opening remarks
Do you remember learning to ride as a child? Do you recall the bicycle? Maybe a blue Schwinn. You rode that bicycle until the frame broke and the wheels fell off.
Our friends would race, compete at distance jumping, or just ride and talk for hours.
We still ride together, but now we wear helmets, the bicycles cost more, we ride longer distances, and we don't get grounded for leaving the neighborhood. There is something about Cycling that makes you feel alive. We think it is as close to flying as you can get without wings.
---
WHY RIDE?
People take up cycling for many reasons. Some ride for health; some ride for competition; some ride for the social opportunities; and some view their bicycle primarily as an environmentally clean form of transportation. Regardless of your reasons, we all share the joy of cycling.
Health
Many doctors recommend cycling to patients be cause of its low impact and numerous health benefits. Endurance exercise lowers the risk of developing cardiovascular disease, type 2 diabetes, and certain types of cancer. Exercise has a positive impact on cholesterol levels, blood pressure, and body composition. Cycling can also improve introduction your psychological well-being by significantly reducing stress.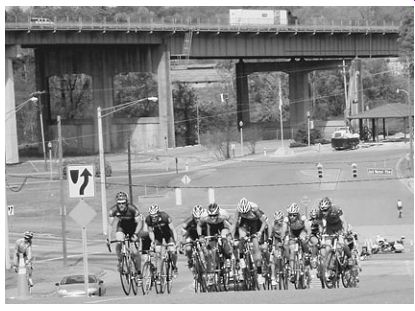 ----------- Due to the increased popularity of cycling in general, there has been a large increase in competitive cycling in particular.
Competition
Most of us are competitive to some extent. Even cyclists who don't race formally often compete on some level, trying to be the fastest on a group ride or attempting a personal best on a specific route. Whether we test our limits against other cyclists or against the clock, competition pushes us beyond what we would accomplish without it.
The popularity of bike racing in the United States has grown exponentially in recent years, and the trend seems likely to continue. With this growth come more and more opportunities to compete locally. In most areas of the United States, you can find many races within a few hours' drive of your home. This has opened up racing to many individuals who may not have considered it previously.
Community cycling provides an excellent opportunity to socialize with those of like mind. Joining a local bicycle club is a good way to meet people and make new friends.
If there is no cycling club in your area, start one.
It doesn't take an enormous amount of effort, and you'll be surprised by how many cyclists come out of the woodwork when a club appears. My local club began with about fifteen riders and has grown to well over a hundred in just six years.
Cycling can also provide a means for supporting the community through fund-raising. Many organizations stage supported rides to raise money for charity.
Environmental Concern
More and more people are riding their bicycles to work to save on gas costs and reduce their carbon footprint. Commuting by bicycle also allows you to squeeze more training into a normal workday. An extra thirty minutes of riding to and from work adds up. You can also take the long way home to further increase your time in the saddle.
Keep in mind that riding to work requires more planning than does driving. You will need to clean up once you reach your destination. Baby wipes work well if a shower is not available. You will also need to keep a clean set of clothes to change into at work.
BICYCLE AND GEAR
Whatever your reasons for riding, choosing the right bicycle and gear for your needs is important.
Certain pieces of equipment (such as a helmet) are essential; others are in the nice-but-not-necessary category (such as a heart-rate monitor). When living on a budget it helps to be able to distinguish the essentials from the nonessentials. Part A (The Bicycle) discusses the bicycle and gear to help you make educated purchasing decisions, set up the bicycle to fit you, and learn to maintain it.
RACES AND RIDES
Some people are "into" Bicycling because they thrive on competition, whereas others love aspects of the sport that are the antithesis of competition-the friendly, social atmosphere of group rides; the exposure to nature that cycling pro motes; the altruism associated with charity rides.
None of these noncompetitive attractions, however, are incompatible with riding well and fast; indeed, the better you ride, the more you will enjoy it regardless of your focus. So whether or not you wish to compete, I assume that you have at least some interest in the performance aspects of cycling. Various types of racing and noncompetitive road riding are briefly described here and are covered in detail in Part B (Riding and Racing), along with the skills needed to do them well.
Racing
The "sport" of road racing is almost a misnomer. There are so many types of races-each with differing demands and rewards, and some requiring significantly different equipment-that it's almost like a family of related sports. Here are the most common types of races:
__Road races. Dozens of riders compete as individuals or teams in these races, which are held on public roads with distances usually from 25 to 130 miles.
__Criteriums. Called crits, these are short, fast races, usually on a flat looped course only 1 to 2 miles long but with many turns. Racers go around the course several times.
The turns make the course demanding and technical to ride.
__Time trials. Individuals or teams race against the clock. There are no competing riders (individual time trial) or other teams (team time trial) working with you on the course.
Because opportunities for drafting (riding in another rider's slipstream) are reduced compared to road races and crits, special equipment is used to minimize wind resistance.
Distances usually range from 5 to 35 miles.
__Stage races. These races combine two or more of the race types listed above and range from two days to three weeks. The Tour de France is a stage race.
__Track racing. Special bicycles with no brakes or changeable gears race at high speeds over short distances on a short (200 to 500 meters), round track that is steeply banked to promote high-speed cornering. Because it is a "non-road" event, this type of riding is not covered in detail in this guide.
NONCOMPETITIVE RIDING
Organized opportunities for noncompetitive road riding fall into three categories:
__Supported rides. These provide assistance to cyclists such as food, drinks, bathroom facilities, mechanical repairs, and rest areas.
Sometimes the course is closed to other traffic. An entry fee is required. Almost all charity rides, in which riders raise money for various causes, are supported rides.
__Non-supported rides. Most local group rides are non-supported and are often organized through bicycle clubs. People simply meet at a given place and time to ride a predetermined route. Riders must be prepared to take care of themselves, carrying their own snacks, tools, and other necessities.
__Touring. Similar to backpacking, bicycle touring involves carrying all your gear for a period of days or weeks, and usually sleeping in a tent and cooking on a lightweight stove, or staying in hotels. Touring requires careful planning. You must determine how many miles to travel per day, identify safe roads with as little traffic as possible, and decide where to stop and where to sleep. Some companies provide fully supported tours all over the world, planning the routes, providing gear, and handling logistics. But because maintaining high speeds when loaded with gear is neither an option nor an objective, touring falls outside the focus of this guide.
TRAINING AND NUTRITION
Whatever your reasons for riding, training and nutrition are essential. A good training regimen is necessary for success in racing, and greatly in creases your performance and health; a poor regimen can lead to a decrease in both, and can be disastrous. The higher the level of fitness or performance you want to obtain, the more carefully crafted the program must be. This subject is covered in detail in Part C (Training and Fitness).
HOW TO GET INVOLVED
Your local bicycle shop is a good source of information. Most shops have a designated area for event announcements and fliers. However, the most valuable information you receive may be in verbal form from the shop's owner or employees. They can usually provide detailed information about a specific event, including the road conditions and terrain for the course, the usual size of the groups, and how well the event is organized. They can also put you in contact with the event organizers and other local cyclists who may be participating.
Cycling Clubs
The best way to get involved in cycling is to join a local cycling club, which your local bicycle shop can almost certainly recommend. A good club will provide an enjoyable social and learning environment and a great deal of experience upon which to draw.
Most clubs have a race team whose main focus is to prepare for races. A good club welcomes, encourages, and mentors beginning cyclists. Some clubs have uniforms, coaches, and regular training schedules. Having a qualified coach goes a long way to improving your performance.
If your area has more than one club, visit the different clubs to determine which one best fits your needs. If you are not interested in racing, find a club that emphasizes group events at your level of riding.
Collegiate Teams
The popularity of collegiate cycling is growing, and teams are being developed at more and more schools. Collegiate cycling is unique in that it falls under the jurisdiction of the National Collegiate Cycling Association (NCCA), not the National Collegiate Athletic Association (NCAA). Because collegiate cycling is a non-NCAA sport, few collegiate Cycling teams receive scholarships or substantial financial support from their universities. On the plus side, NCCA cyclists can receive prize money in races without penalty from the governing body, and teams can pursue and accept financial sponsorships. (NCAA regulations prohibit sponsorships and individual compensation for athletic performance.) For information on universities with cycling teams, visit the United States Cycling Federation (USCF) website (see Appendix) and look under "collegiate Cycling." If you are at a university that does not have a team, you can start one through USCF. The process is not difficult or expensive, and most university recreation programs have funds set aside to support "club" sports.
United States Cycling Federation Virtually all on-road bicycle races in the United States are sanctioned by the United States Cycling Federation, the road-racing arm of USA Cycling, which is the sport's representative to the U.S. Olympic Committee. All USCF-sanctioned events require a license to participate. USCF sanctioning provides liability coverage to race organizers in case of an accident, and a degree of medical coverage to riders for any injuries suffered during a race. For more information, visit www.usacycling.org and click on the "Road" tab.
Opportunities for the Disabled
A disability need not exclude an individual from cycling. In fact, there are many cycling opportunities for the disabled. Those with prostheses can ride on a regular or a modified bicycle (one of the fastest cyclists on the Gulf Coast races with a prosthetic leg). Those with limited or no use of their legs can use a hand cycle, a three-wheel bicycle that is pedaled with the arms. Blind cyclists are able to ride by partnering with a sighted cyclist on a tandem bicycle. These are just three examples: many other accommodations are possible. For more information, search for Organizations for Disabled Cyclists.
---
Also see: Classic Guide to Bicycle Touring