Contents
Acknowledgments
Introduction
Part I Understanding the Bicycle Frame
Part II British Frame Builders
7. Harry Quinn Cycles, Limited
10. Woodrup Cycles
Part III French Frame Builders
11. CNC Cycles
12. Cycles Gitane
13. Cycles Peugeot
Part IV Italian Frame Builders
15. Guerciotti
16: Sante Pogliaghi
Part V American Frame Builders
17: Schwinn
18: Profiles of Some American Frame Builders
19: General Observations: The American vs. the European Frame Builder
Part VI Putting the Bicycle Together
20: Bicycle Setup
APPENDIX I European Frame Builders
APPENDIX II American Frame Builders
APPENDIX II I Recommended Brazing Procedures
APPENDIX IV Bottom Bracket Width
APPENDIX V Chain Lines
Glossary
Bibliography
Index
---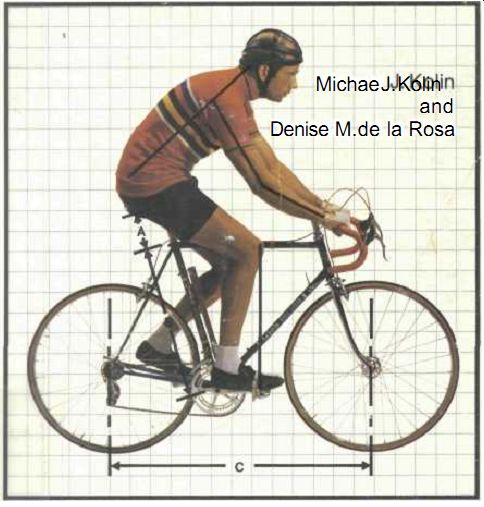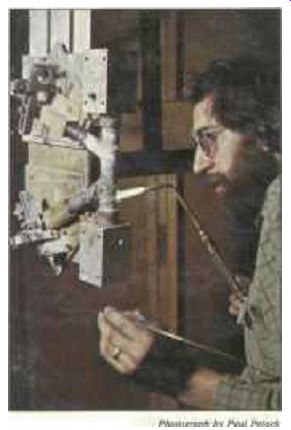 This guide based on the 1979 book: THE CUSTOM BICYCLE--BUYING, SETTING UP, AND RIDING THE QUALITY BICYCLE
By Michael J. Kolin and Denise M. de la Rosa
Rodale Press Emmaus, Pa. USA. $10.95; Canada $12.95
THE CUSTOM BICYCLE BUYING, SETTING UP, AND RIDING THE QUALITY BICYCLE
Frames:
- How they are made
- Special frame-building tools and techniques
- Differences between custom and production frames
- Frame checks you can perform yourself
Frame Builders:
- Interviews with 20 of the world's foremost custom builders and manufacturers
- Techniques, building philosophies, products
- Frame styles, options, and special features
- Differences between European and American builders
- What to consider when buying a custom bicycle
Bicycle Setup:
- How to adjust saddle, handlebars, and stem for maximum cycling efficiency
- Correct ways to position yourself on the bicycle
- Checking frame alignment
- Attaching derailleur levers, mounting brakes, and inserting seat post
- Fine tuning your bicycle for riding comfort
- Basic riding techniques (gear selection, pedaling, cornering)
- Setup for touring
- Fitting the shorter rider
Acknowledgments
Special thanks to Bill Betton, Eddie Borysewicz, Frank Brilando, Anthony Cappella, M. A. Chiarella, Andrea Cinelli, Cino Cinelli, Frank Clements, E. C. Cooper, Henri de Laissardiere, Raymond Fletcher, John Foster, Mike Fraysse, Vic Fraysse, Dennis Freezer, Georgetown Cycle, Italo Guerciotti, Paulo Guerciotti, Eddie Haslehurst, Bob Jackson, Raoul Jeand'Heur, Barry Koenig, Derek Land, Bill Lee, Gerald O'Dono van, R. P. O'Donovan, Lee Parker, Jean-Michel Piet, Mel Pinto, Sante Pogliaghi, Harry Quinn, Tom Rymanowicz, Rick Schwinn, Charles Shannon, Stuyvesant Bicycle Distributors, Jack Taylor, Ken Taylor, Norman Taylor, Peg Taylor, Leonard Trotman, Ultima, Inc., Stephen Woodrup, Stephen Morris Woodrup, Grant Young, Monty Young, and all those who freely gave their time and expertise to insure the comprehensiveness and accuracy of this venture.
---
Introduction
Why another book on cycling? Since the bicycle boom in 1973, dozens of books about bicycling have appeared, but few of the books answered the questions many people were asking. The C.O.N.I. book, Cycling (Rome: F.I.A.C., 1972), came as close as any, yet it leaves more questions about bicycles unanswered than it has been able to answer. More and more riders are now interested in top-quality equipment but as the price of the equipment increases, the available information decreases.
After owning and operating our own bicycle shop, we discovered that few people are knowledgeable about the design and intent of quality bicycles. For instance, the vast majority of cyclists we met were riding bicycles that were far too big for their physiques. Frequently, equipment had been misused or broken because the owner did not know how to use it. Worse, many so-called "bicycle people" didn't really know their products.
Many were attracted to cycling because it became "the thing to do." Because of the demand for sports bicycles, 10-speed bicycles were sold by mail order, in ski shops, gas stations, and major department stores. Many inexperienced store owners selected their stock of bicycles by appearance or because the markup was good. How many really knew the difference between a bicycle made out of tubing and a bicycle made out of pipe? As we began outlining the content of this book, we realized that our objectives were complex and they appeared, at first glance, to be the subjects of two separate books. We believe that a review of our objectives will clarify the organization. Our first objective is to "demystify" the quality bicycle frame. We want to present an accurate description of the "why's" behind the design and manufacture of the modern bicycle. We feel that the whole area of frame design requires explanation since a frame, or component, isn't "the best" by definition alone.
We wanted to supply an answer to the all-inclusive question:
"What makes a given frame, or component, appropriate for a specific use?"
To supply the answers, we went to some of the most famous frame builders in the world. What better way to learn about the little-known art of frame building than to personally visit the masters? To put their ideas, methods, and opinions into proper perspective, we devote a section to each builder or company. In this way we eliminated any personal bias and, at the same time, provide the reader with a basis for comparison among builders.
Furthermore, we were able to present pertinent biographical information on the builder. We feel that the reader's interests are best served when he or she can evaluate each builder's experience and training as well as his design philosophies. This method of presenting the material should allow logical comparison between individual builders and their techniques.
Our second objective is to provide the reader with a guide to the proper setup and use of a quality lightweight bicycle. It is obvious that not everyone needs a custom frame. Everyone, however, can benefit from the advice of an experienced coach.
Unfortunately, many riders in this country do not have anyone to provide basic cycling tips. To answer this need, we prepared the "how-to" sections of the book.
The recommendations in the sections devoted to bicycle setup and riding techniques are supported by many of the world's cycling experts. The accumulation of the materials in the book began in 1961 when the author (Mike Kolin) began racing under the coaching of Mike Walden in Detroit, Michigan. For those of you who are not familiar with Mike Walden's coaching success, here is a partial list of riders who have followed his training plans:
Bob Travani 1948 Olympic Team
Tom O'Rourke 1952 Olympic Team, 1959 Pan American Team
Karl Wettberg 1956 Pan American Team
Bill Freund 1960 Olympic Team
Roger Young 1972,1976 Olympic Team
Sheila Young 1973,1976 World Champion
Sue Novara 1975 World Champion
After winning four state championship titles and serving as a coach for the Wolverine-Schwinn Sports Club, Michigan, Mike Kolin compared his personal theories with every available expert before attempting to publish the findings.
Accomplishment of these two objectives (individual bio graphical sketches describing technique and design philosophies, and bicycle setup) can best be obtained when the information is presented side by side since the relationship between proper frame design and the position of the rider is interrelated. For instance, most frame builders design their frames for specific weight distribution. How can the rider expect to optimize the benefits of a top-quality frame unless he or she is positioned properly on the frame? Although most riders would realize very Little performance increase with a custom frame, understanding frame design theory can help the rider to choose a factory-built frame.
One final word on the layout of the book. The builders included in the book were selected by a number of subjective criteria: popularity and/or reputation of the frame, the importance of the builder in cycling history, unique innovations by the builder, and willingness of the builder to provide us with his time. The sections are presented by country with builders in alphabetical order. There are some obvious exclusions. Omission of a builder should not be construed as a negative reaction to the builder or his product. We were unable to visit everyone. We decided to omit some of the famous builders who were surrounded by rumors that were difficult, if not impossible, to prove or disprove. For instance, many industry people claim that one very famous builder hasn't built a frame in years for the general public. Instead, a small firm builds the frames and ships them to the "builder" without decals. He has someone install his own decals and the public believes they are buying a frame built by one of the recognized "masters." We chose to eliminate that particular builder from the book since we were unable to adequately substantiate or refute the widespread rumor. We were able to determine, however, that few individual builders produce more than 300 to 400 frames per year. (This can vary when the "master" utilizes assistant builders or apprentices.) The previously mentioned builder had been producing a similar number until recent years when he met demand for his product by an overnight production increase that numbered in the thousands! We hope that our efforts to objectively present the facts will help you to enjoy reading this book as much as we have enjoyed dealing with the many interesting personalities who made it possible.
Michael J. Kolin Denise M. de la Rosa
---
---
Also see: