How they work
Hub-mounted brakes are activated by the pull of a lever on a cable, which causes pads to contact a braking surface. Springs push the pads away when the lever is released. In disc brakes, the pads act on discs attached to the hub.
In roller and coaster brakes, the pads act on a braking surface inside the hub. The action of the pads on the surface then slows down the hub and therefore the wheel. In hydraulic brakes, the lever's action pushes fluid through a hose; this fluid pushes the brake pads in the caliper into action. Of all the hub-mounted brakes, hydraulic disc brakes offer a rider the best control over the braking forces that can be applied.
Working in any weather: An advantage of hub brakes over rim is that their performance is pretty much unaffected by adverse riding conditions. Warning: tire skidding is a wet-weather danger that cannot be avoided.
Image (right) shows:
Hose: Carries the brake fluid from the lever to the caliper.
Brake Lever: Compresses the brake fluid.
Caliper: Houses the brake mechanism.
Disc: Slows down the wheel.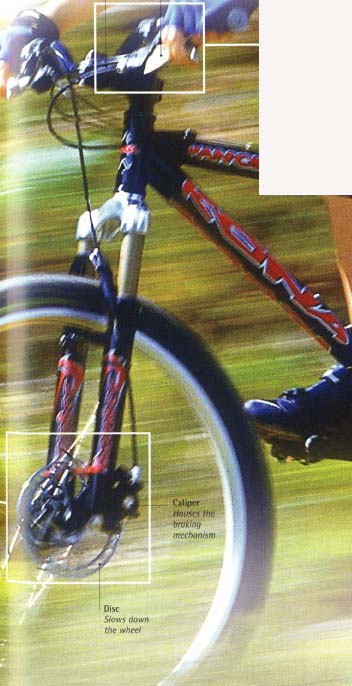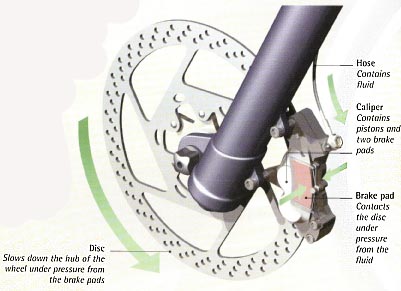 When the rider pulls the brake lever, the hydraulic fluid in the hose pushes on the pistons in the caliper. These pistons in turn cause the brake pad on each side of the disc to contact the disc and slow the rotation of the wheel. When the rider releases the brake lever, the pressure of the fluid in the hose decreases, allowing the springs (not visible) in the caliper to push the brake pads apart.
Disc: Slows down the hub of the wheel under pressure from the brake pads.
Hose: Contains fluid
Caliper: Contains pistons and two brake pads
Brake pad: Contacts the disc under pressure from the fluid
Hydraulic Brake Lever (shown below)
Brake hoses are connected to a reservoir of brake fluid on each brake lever. The fluid fills the hoses all the way to the caliper on the wheel. Pulling the brake lever operates a piston in the reservoir, which pushes the fluid down the hose and, as a result, activates the caliper pistons.