The three most common types of rim brake—V-brake, cantilever, and caliper—work in similar ways. A lever pulls a cable, which causes the two brake arms to move toward each other simultaneously. This action brings the two pads into contact with the braking surface of the wheel rim. Springs cause the arms to move back when the lever is released. Cantilever brakes distribute the cable's pull via a straddle wire. The inner cable in a V-brake and caliper pulls one arm, while the outer, in resisting this pull, effectively pushes the other arm.
Braking safely: Rim brakes must be set up properly and maintained to very high standards if they are to work effectively and safely on any surface and in all conditions. More on braking safely here.
Image (below) shows:
Brake lever: Pulls the cable
Brake arm: Moves the broke pads toward the rim
Brake pad: Slows down the wheel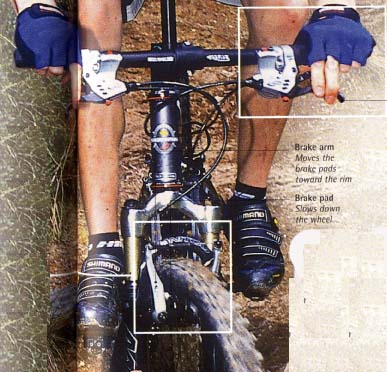 How a V-Brake works
The cable of a V-brake is attached to a brake arm by a cable-clamp bolt. When pulled, the cable pulls this arm toward the rim. At the same time, the cable-guide tube, which is an extension of the cable housing, pushes the other arm inward. The two arms pivot around the brake bosses, pushing the brake pads against the braking surface on the rim. Once the cable's pull is released, springs around the pivot bolts push the brake arms apart.
V-Brake Components:
Cable-guide tube: Pushes the brake arm
Brake arm: Pivots inward on a brake boss
Cable-clamp bolt: Attaches the cable to the brake arm
Brake boss: Allows the brake arm to pivot
Brake pad: Contacts the rim and stops the wheel
Springs: Push brake arms apart
Pivot bolt: Anchors the brake arm to the brake boss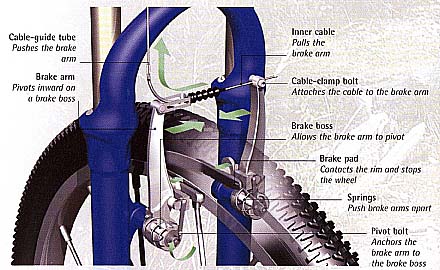 How a Brake Lever works
When the rider applies the brake lever, it pulls the nipple of the inner cable. As it leaves the lever, the brake cable runs inside a cable housing, which leads to a barrel adjuster. The adjuster allows the brake travel to be fine-tuned.
Components of a Brake Lever:
Nipple: Fixes inner cable to brake lever
Inner cable: Links the brake arm to the brake lever
Barrel adjuster: Adjusts brake travel
Cable housing: Resists the pull on the cable
Brake lever: Pulls the nipple