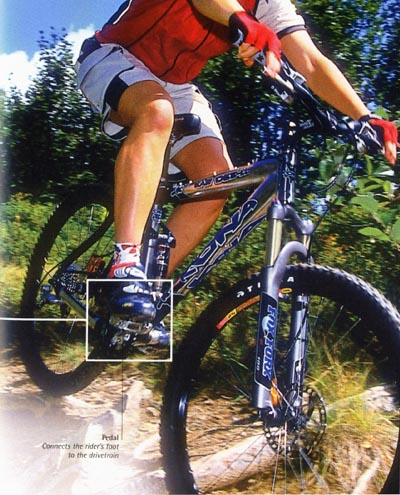 There are two types of pedals, flat (shown below) and clipless. Pedals with open bearings require regular inspection and lubrication. Clipless pedals must be lubricated to ensure easy foot release Cleats should be correctly fitted to the rider's shoes and regularly inspected for wear.
How they work
The two pedals transfer the push from the rider's legs and feet into both crankarms, which, in turn, rotate the axle in the bottom bracket. The body of a pedal rotates around an axle and is supported on bearings that are either open or held within a cartridge. The pedal's axle screws into the crankarm.
Pedals should grip a rider's feet in some way. For example, studs that prevent foot slippage will help a rider who makes frequent stops, such as a commuter in heavy traffic. Some flat pedals are fitted with toe-clips and straps that hold the front of the foot, although they can interfere with the foot as the rider tries to remove it. Clipless pedals hold the foot securely, while releasing it easily whenever the rider wishes.
Energy conversion
Pedals are the invention that defines cycling. They are the first step in the process of converting human energy into mechanical motion.
FLAT PEDAL MECHANISM: Two bearings on the pedal's axle are held in place by a cone and lockring that screw on to the outer end of the axle. A knurled retainer attaches the pedal body to the axle. The cone (not visible) and the lockring can be adjusted to permit the free rotation of the body around the axle, without any play. Crankarm: transfers power to the bottom bracket; Axle: screws into the crankarm; Knurled retainer: holds the body onto the axle; Ball bearings: allow the body to rotate around the axle.