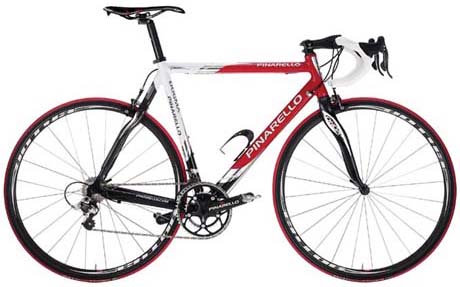 If you want to take up cycling as a sport or hobby rather than simply as a means of transportation, look for a more specialized bike such as a race-level road bike, a mountain or a BMX bike.
As bikes become more sophisticated, they need more care. For example, lightweight parts wear quickly, so they must be kept scrupulously clean. Carbon wheel rims require special brake pads that do not work well on metal. Hydraulic disc brakes and suspension systems need regular attention. Don't let these needs keep you from buying your dream bike! Just as riding it will be a joy, and maintaining it to exacting standards will be part of the whole cycling experience.
The road bike
Lightweight materials and narrow tires make road bikes ideal for fitness riding, day touring, and competitions. The aerodynamic position afforded by a drop handlebar offers great speed. Road bikes are so light and have such a range of gears that almost anyone, with a little training can tackle the great mountain passes made famous by the Tour de France.
The mountain bike
Full-suspension mountain bikes allow you to break new ground and ride across rugged terrain that was previously unthinkable and at speeds that were once unattainable.
The BMX bike
These bikes are built for acceleration and agile bike handling. Like some of the very first bikes, BMXs are made almost entirely from steel because it transfers power in a way that no other material can.

Road riding (top left image)

This road bike represents the ultimate in road-bike design, and is the type of bike that professionals use in the Tour de France.