You can purchase a bike for almost any purpose, but even a simple utility, hybrid, or folding bike will still increase your fitness, save you cash on the train or bus tickets, and have no negative impact on your environment.
As long as the bike is of good quality, you will only need to keep it clean and check it regularly for signs of wear. Hybrid bikes, utility bikes, and folding bikes are all dependable machines that are suitable for commuting to work or school, day-to-day transportation, or simply a relaxing ride on a bike trail or country road.
Hybrid bike
Lightweight materials combined with road-bike performance and hardy mountain bike technology make hybrid bikes perfect for bumpy urban roads. They are ideal for commuting, family rides, fitness riding, touring, and carrying luggage.
Utility bike
Utility bikes are ideal for local commuting and short rides. They are equipped with fat tires that absorb road bumps but will drag on long journeys, making them tiring and uncomfortable to ride.
Folding bike
Ideal for commuters, and for people with little space in which to store a standard bike, folding bikes can go anywhere, especially on public transportation. The folded bike can be easily reassembled into a serviceable machine without the use of tools.
Urban commuting
With its head-up, traffic -- friendly riding position and easy-to-operate gears, the lightweight hybrid is ideal for urban commuting.
ESSENTIAL MAINTENANCE CHECKLIST
HYBRID BIKE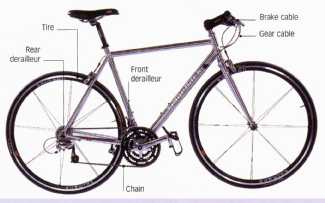 Regularly maintain and lubricate the derailleur gears.
Check the gear cables for signs of wear.
Cheek the brake cables for signs of wear
Check the tires for signs of wear
Regularly change the chain.
UTILITY BIKE
Regularly lubricate the hub gears
Regularly cheek the gear cables for signs of wear
Regularly check the brake control cables for signs of wear.
Regularly check the brake pads for signs of wear
Regularly clean and grease the chain.
FOLDING BIKE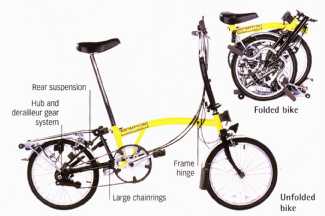 Regularly check and lubricate the pivots and the locks that allow the bike to fold and unfold.
Regularly check hub gears, even though they are shielded from the elements and thus need very little maintenance
Pay extra attention to the outer control cables.