How chains, cassettes, and cranksets work separately and in concert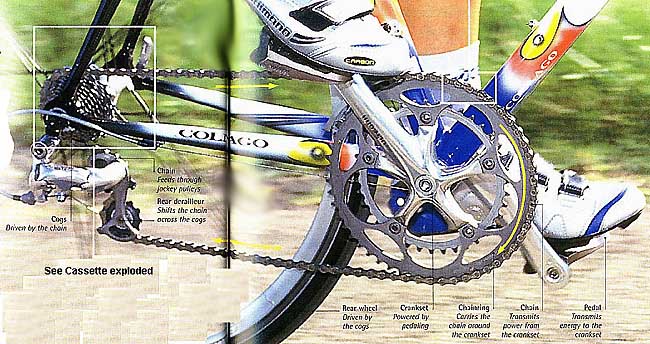 Above: Cog : driven by the chain; Chain: feeds through jockey pulleys; Rear derailleur: shifts the chain across the cogs; Rear wheel: driven by the cogs; Crankset: powered by pedaling; Chainring: carries the chain around the crankset; Pedal: transmits energy to the crankset.
With every turn of the pedals, the chain, cassette, and crankset are put under strain. The parts are in continual contact, and the motion of pedaling inevitably leads to wear. No matter how well you care for each part, they eventually need to be removed and replaced.
The chain, cassette, and crankset combine to form the heart of the drivetrain, the part of the bike through which a rider's pedal power is transferred into forward motion. The pedals drive the crankset and, via the chain, turn a cog attached to the hub of the rear wheel, which in turn rotates the wheel.
Bikes with derailleur gears use derailleurs to shift the chain onto different sized cogs and chainrings, which make up the cassette and crankset. Each combination of chainring and cog provides a different gear ratio, giving up to 27 different gears that can used to tackle anything from steep climb to gentle flats.
Lightweight components: The chain, cassette and crankset are lightweight items that use the latest designs and construction techniques to maximize strength and durability while maintaining an aerodynamic profile.
Exploded view of Cassette
The cassette transfers the motion of the chain to the wheel. It consists of cogs that slide onto the cassette body , which is bolted onto the hub. The cassette body houses the freewheel, which allows the wheel when the cassette is stationary.

Right: Lockring: Holds cogs on the body; Cassette body: contains the freewheel; Quick-release lever: locks wheel into place; Spacer; Cog: slides onto cassette body; Hub flange: spokes connect hub to wheel rim.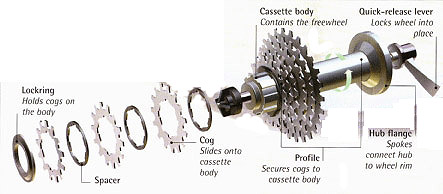 Chain Mechanism
The chain is the key to transmitting pedal power into forward motion.
To transfer power efficiently, the chain must be strong, but flexible enough to fit securely around the teeth of the chainrings and cogs. To achieve this, a series of links articulate around joining pins, which are surrounded by revolving metal barrels.
Right: Joining pin: connects inner and outer links; Outer link: shaped to allow quick gear-shifts; Inner link: rotates around the barrel; Barrel: sits between teeth of chainrings and cogs.