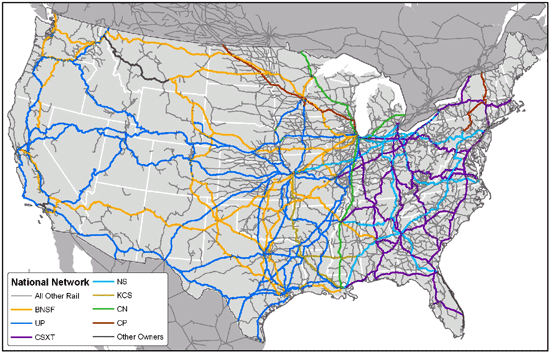 Above are four of the largest publicly traded pure-railroad companies in the United States-- Union Pacific (NYSE: UNP) in dark blue, CSX (NYSE: CSX) in purple, Norfolk Southern (NYSE: NSC) in light blue, and Kansas City Southern (NYSE: KSU) in gold.
U.S. / Canada Railroad Investor information:
Yahoo! Finance
Quotes for CSX and other U.S. railroad investments
CNBC--Cramer: Buy the railroads if the Fed says this... -- Jan 26, 2016
FORBES -- Five U.S. railroad stocks on track for turnarounds (Sept 2015)

Video above: Fri, Dec 11, 2015
"There hasn't been a major railroad merger in North America since 1999. But yesterday Matt Rose, executive chairman at Burlington Northern Santa Fe, warned that North American railroads could face a wave of mergers if regulators approve CP's efforts to take over Norfolk Southern. Jason Seidl, Transportation Analyst and Managing director at Cowen and Company, discusses possible targets and suitors."


Video above: Proof that American railroads are robust investment opportunities.
Leaders and Legends - Wick Moorman at Johns Hopkins
Johns Hopkins Carey Business School, Leaders and Legends Lecture Series, April 16, 2009: Wick Moorman - Chairman, President and CEO of Norfolk Southern: Delivering the Goods: How Railroads Remain Crucial to America's Economic Growth
Notes:
10 Best Railroad Stocks for 2014 (based on thestreet.com article):
Equity

Rating

UNION PACIFIC CORP

KANSAS CITY SOUTHERN

CANADIAN PACIFIC RAILWAY LTD

NORFOLK SOUTHERN CORP

GENESEE & WYOMING INC

CANADIAN NATIONAL RAILWAY CO

CSX CORP

PROVIDENCE AND WORCESTER RR
On Feb. 12, 2010, BNSF (former stock symbol BNI) merged with parent company Berkshire Hathaway Inc. (BRK-A). BNI Historical Stock Prices are here.
EMD (Electro-Motive Diesel) locomotive: On June 1, 2010, Caterpillar Inc. announced it had agreed to buy Electro-Motive Diesel, Inc. from Greenbriar, Berkshire et al. for $820 million. Caterpillar's wholly owned subsidiary, Progress Rail Services Corporation, completed the transaction on August 2, 2010, making Electro-Motive Diesel, Inc. a wholly owned subsidiary of Progress Rail Services Corporation. Although Caterpillar announced that John S. Hamilton would continue in his roles of president and CEO of EMD after the close of the transaction, Mr. Hamilton left EMD for unspecified reasons in late August 2010.
U.S. Freight Rail Transportation Companies (Class I):
U.S. Freight Rail: Rail Cars
TTX (private): Developer of railcars and freight car management. Wikipedia link.



Trinity Industries, Inc (NYSE: TRN): largest North American freight rail manufacturer with 30% of the market. It produces freight cars, passenger railcars, boxcars and others.
U.S. Freight Rail: other
Railex (private): Uses Union Pacific and CSX along with special Railex-designed, purpose-built refrigerated cars to transport produce. Railex, a refrigerated rail transport and warehousing company, began service in 2006. Guarantees five days coast to coast. Routes: Washington (state) to New York; and Delano, CA to New York. A single train is equal to 220 semi trucks.
U.S. Rail Transportation: Locomotives and Supporting Industries:
U.S. Passenger and Light Rail:
U.S. Railroad Training and Careers:
U.S. Government Agencies:
U.S. Federal and State Government Support of Railroad:
Short Line Railroad Investment Act of 2007 (S.881)
U.S. Railroad Organizations:
U.S./American Railroad Industry magazines/publications:
Train / Rail Technology and Engineering (global):
Railway-Technology.com: European web site that contains up-to-the-minute news on the worldwide rail industry. With its unique blend of news, analysis and special in-depth reports, this resource gets to the heart of issues affecting the working lives of people dealing with technology in the railway industry. From boardroom directors to trackside staff, or third-party providers, railway-technology.com offers a comprehensive view of the industry, staying on top of the latest industry movements and views.



Railway Technical Web Pages: provides free articles about railways, using the UK railway system as the base technology with more articles and information about other systems, like the US, as appropriate. Articles and glossaries are provided for a range of subjects. These include planning, finance, operations, design, engineering, production and maintenance. There is also some information about steam locomotives, including a glossary and an explanation of wheel arrangement descriptions.



railwaygazette.com -- UK-/Europe-based web site and "webezine" for railway industry.
Fan-based web sites (global):
Fan-based web sites (mostly American/U.S.):
The American Railroads -- a website dedicated to U.S. railroad history, both past and present, and a resource tool describing and educating about American railroading in general.



Spike Systems – Mostly American historical rail-fan site.



steamlocomotive.com -- This web site primarily contains info on full-scale U.S.A steam locomotives.