The Crescent Corridor
The Crescent Corridor is more than a $2.5 billion rail infrastructure project that spans 11 states. It is a symbol of prosperity and innovation. Providing one of the fastest, most direct routes from the Southeast to the Northeast with convenient connections to Mexico and Los Angeles, the Crescent Corridor is creating jobs and making green shipping a reality.
With 30 new lanes now open connecting to the 2,500-mile Crescent Corridor, Norfolk Southern's high-capacity intermodal routes are truck competitive, fuel efficient, and dependable.
The Crescent Corridor helps our customers, and it gives America a competitive advantage:
Create 122,820 jobs across the rail network by 2030
Create new terminal facilities in Birmingham, Ala., Memphis, Tenn., Charlotte, N.C., and Greencastle, Pa.
Save more than $575 million in traffic congestion annually
Reduce 1.9 million tons of carbon dioxide annually
Save more than 169 million gallons of fuel annually
Remove more than 1.3 million long-haul trucks annually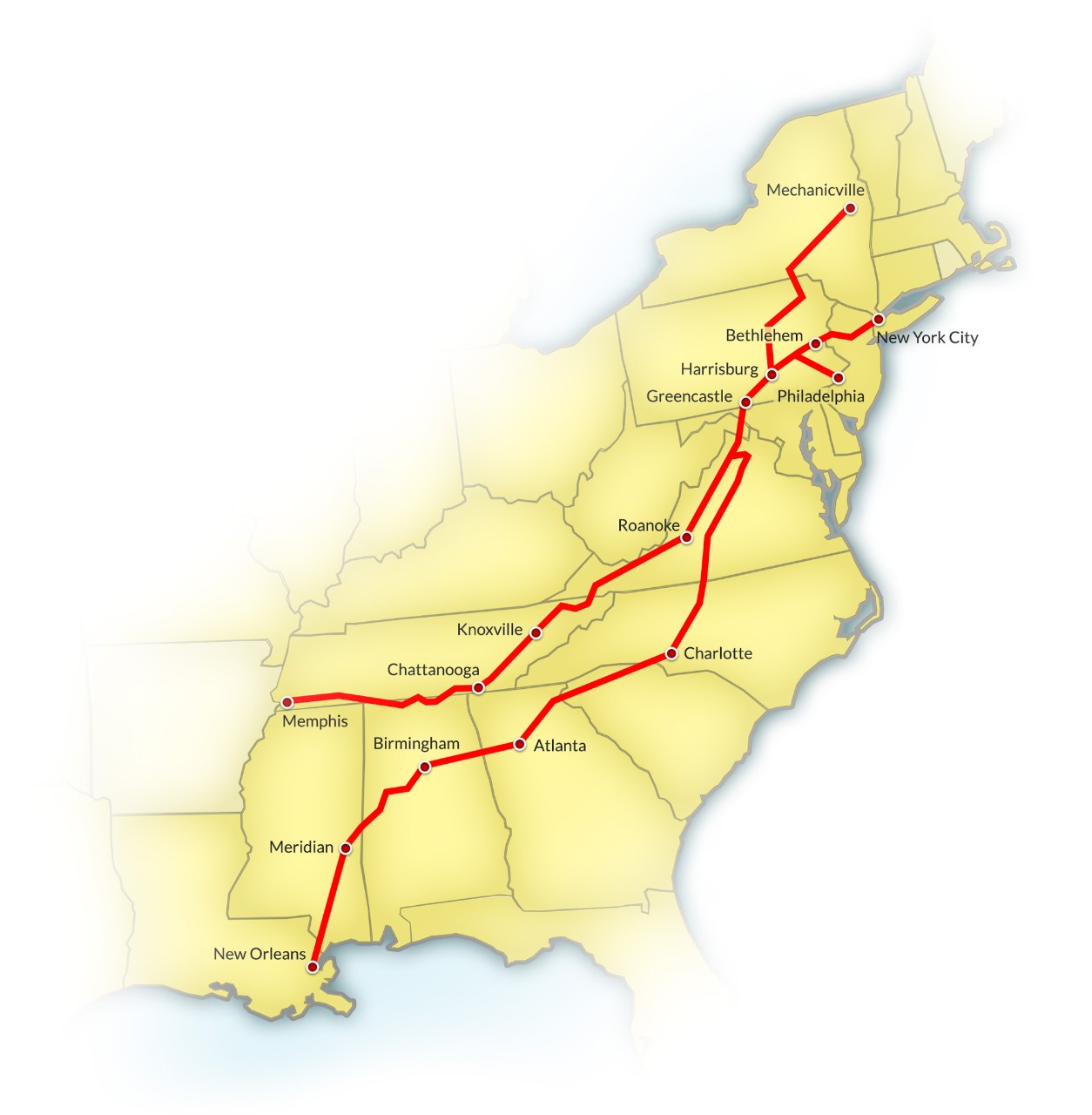 above: Map of Crescent Corridor (from NSC)


---
The Heartland Corridor
The Heartland Corridor is a $290 million public-private partnership that offers efficient routing between the Port of Virginia and the Midwest. In a major engineering feat, clearances were raised in 29 tunnels to make way for double-stacked intermodal trains.
Together with new sidings, added terminal track capacity, and proposed access to new markets at Roanoke, Va., and Pritchard, W.Va., the Heartland Corridor increases freight capacity, removes trucks from congested highways, saves transit time for customers, and reduces greenhouse gas emissions.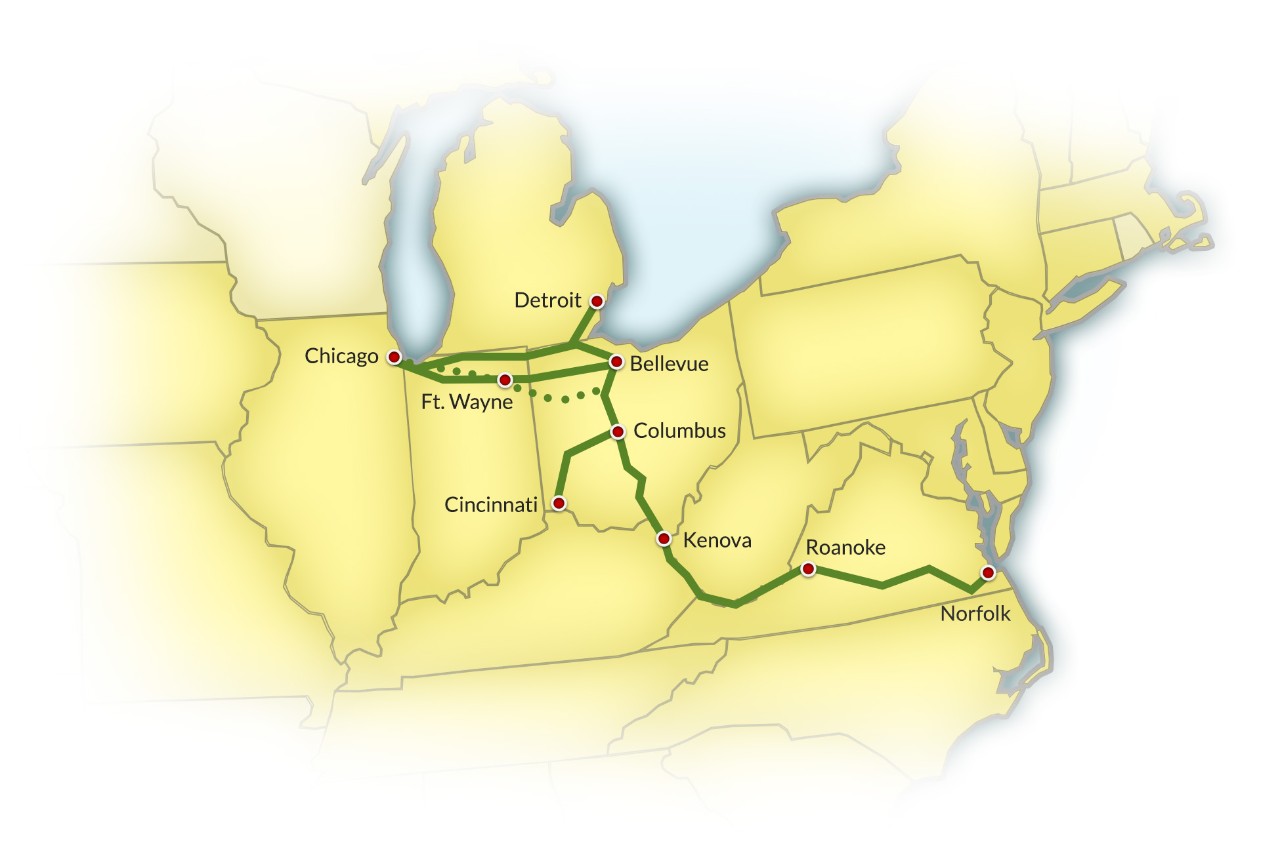 ---
The Meridian Speedway
The Meridian Speedway is a $300 million (NS invested $260 million) joint venture between NS and Kansas City Southern. Not only does the Meridian Speedway provide the most direct route between California and points in the Southeast, it also offers faster service between Dallas and the Southeast.
The Meridian Speedway improvements
The improvements and benefits in this joint venture include:
Eliminating 150 route miles on transcontinental shipments



Removing a full day out of the transit schedule



Infrastructure upgrades that have significantly enhanced the capacity and service



Track and cross-tie refurbishment



Extending sidings, passing tracks



Electronic signaling installation



Significantly increasing train speeds



Providing automotive manufacturers in the South the shortest, most direct route from points in the Southeast to California markets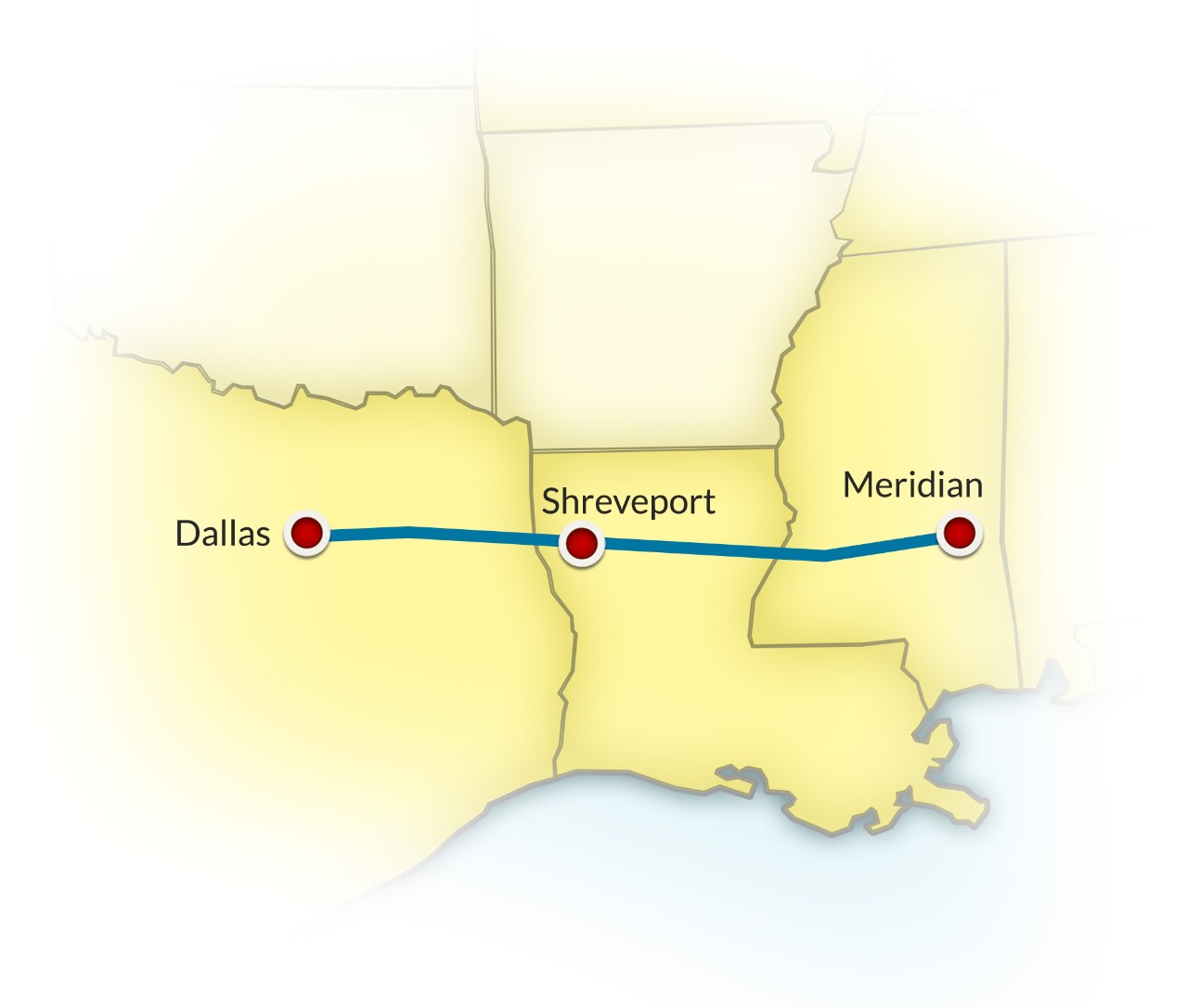 ---

above:Heartland Corridor - Raising the Roof

above: Heartland Corridor - Economic Powerhouse




above: Virginia and the Crescent Corridor

above: Crescent Corridor - Faster service from Louisiana to New Jersey


Related Links: