These steps will help you to prepare a bike for a rainy winter, a particularly wet climate, or if most of your riding is done off-road. The mud, sand, and water that your wheels spray up into every part of the bike combine to form a damaging, grinding paste. Salt, if used to treat roads where ice is likely to occur, will quickly corrode your bike.
Regular cleaning and lubricating helps with protection, but try to stop the mud and salt from reaching the delicate parts of the bike in the first place. The overall aim when protecting a bike in wet weather is to prevent water from reaching the interior parts and washing the lubricant off the exposed parts.

Protecting a bike:
Fit mudguards, inserts, seals and lubricate the exposed parts to protect them from wet conditions.
Shielding exposed components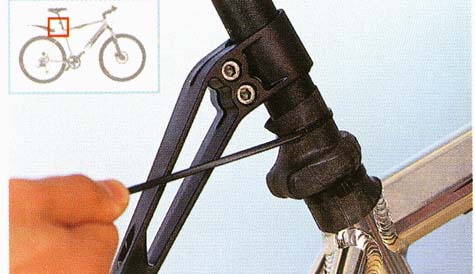 Sealing the seat post collar
Keep water out of the point where the seat pin enters the frame. Mark this junction and remove the pin. Pull a piece of narrow road-bike inner tube over the frame. Insert the pin through the tube to the mark and tie-wrap the tube to secure it.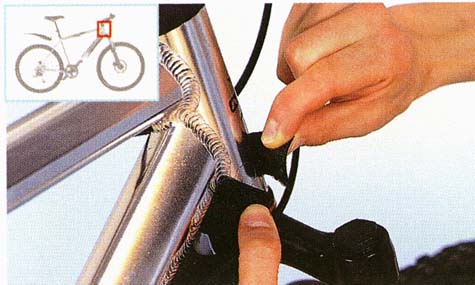 Sealing the headset
Place a cover over the headset to provide protection. You can fit a protector to the headset without removing any components by simply fastening the velcro.
Fitting mudguards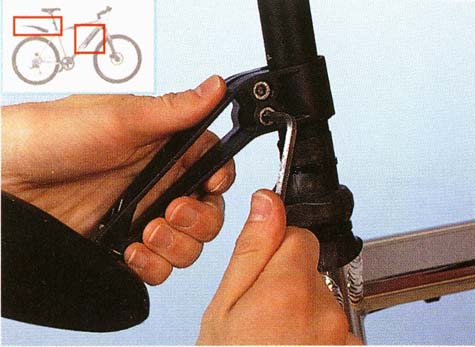 Fasten a mudguard to the seat pin and you will block much of the spray from the back wheel. For the front wheel, fit a guard that clips onto the frame and is secured in place with tie-wraps. Full mudguards, which attach to the fork and rear dropout, give almost full protection for on-road biking but get clogged up off-road.
Weatherproofing the drivetrain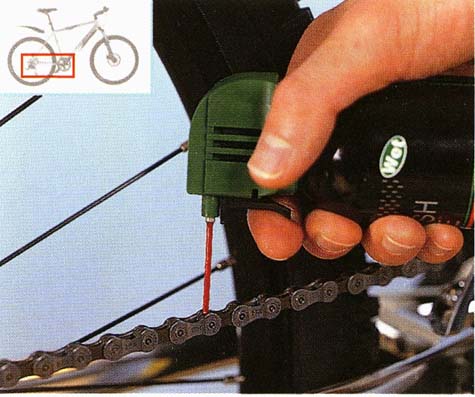 Cleaning and lubricating the chain
Lubricate and clean your chain as often as you do in summer and after every wet ride. Apply the same light lubricant that you use in the summer and then apply a heavier oil, which will not wash off as easily. Only coat the rollers and insides of each link with heavier oil because it attracts more dirt.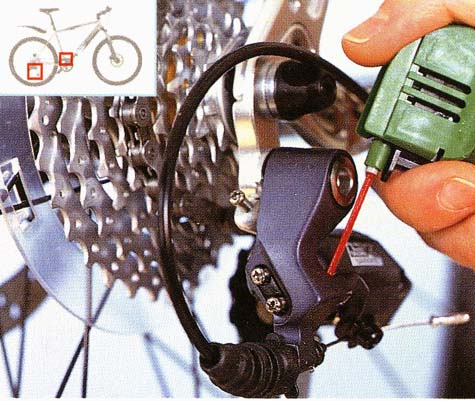 Cleaning and lubricating derailleurs
Dribble oil on to the pivots around which the front and rear derailleurs move. Use a heavier, wet oil rather than the oil you would normally apply during the summer. Every time you dribble oil like this, first flush out the old oil by dribbling some degreaser onto the pivots and letting it sink in for a few minutes.
Cleaning and lubricating pedals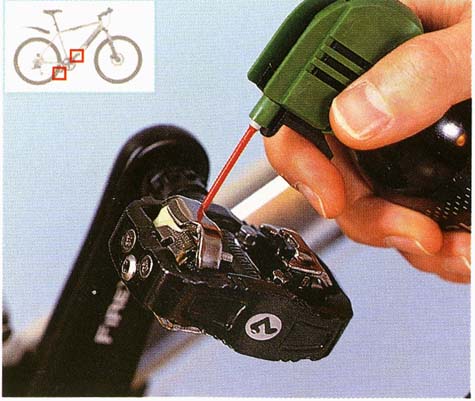 Apply heavier, wet oil to lubricate the retention mechanism of clipless pedals after degreasing all the moving parts. The heavier oil will not wash off as easily as dry oil. Regularly clean off old oil with degreaser and apply new oil in order to prevent the accumulation of grit and the consequent increase in pedal wear.