Right: Components of a drop handlebar.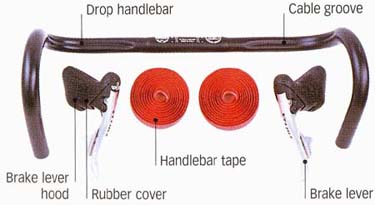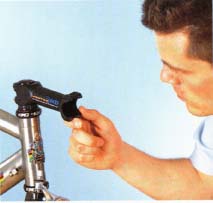 Step-by-step guide to Installing a drop handlebar
1. Use a medium, half-round file to remove any raised areas of metal inside the part of the stem that clamps the bar in place. These raised areas can bite into the handlebar, eventually causing them to fracture.
Smooth the filed surface with emery paper.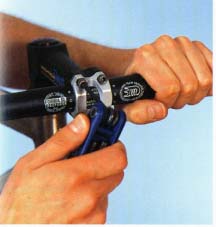 2. Fit the new handlebar and tighten up the clamp bolts. Before you secure the bolts, try to line up the flat part of the bottom of the handlebar with a point just below the back brake.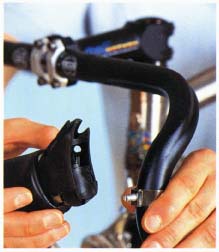 3. Slide the steel ring of the brake lever over the handlebar. This ring clamps the lever to the handlebar.
Attach the bolt in the brake lever hood to the screw thread on the ring and tighten.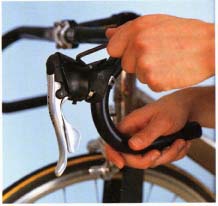 4. Secure the levers of a Campagnolo brake/shift to the handlebar by tightening a bolt on the outside of the hood with an Allen key. Pull the lever hood cover forward to access the bolt. The bolt on Shimano levers is farther down the outer side of the lever hood, so you need to put your Allen key into a recess under the rubber cover.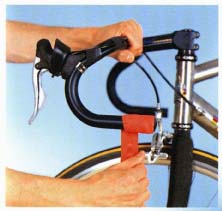 5. Start taping at one end of the handlebar.
Wind upward, covering half of the previous turn with each subsequent turn.
Keep the tape tight at all times.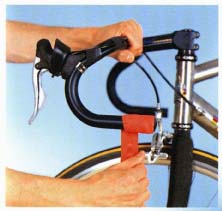 6. Pull the cover of the brake lever hood forward and place a short length of tape over each steel ring.
Wind the tape in one turn from the bottom to the top of the lever hood. When you reach the top of the handlebar, secure the tape with electrical tape.