Tools needed:
Maintaining and replacing the gear cables on a mountain bike is very similar to caring for cables on a road bike. However, mountain bikes are often subjected to harsher conditions than road bikes so the cables must be replaced and lubricated more regularly.
Take special care with the cable disc brakes of a mountain bike because they have longer lengths of cable housing and the cables require lubricating more often.
Rear gear cables can slap against the frame when you ride a mountain bike over rough ground. If this happens regularly, it may mark the paintwork, so try putting tiny rubber rings over the exposed cable to protect the frame.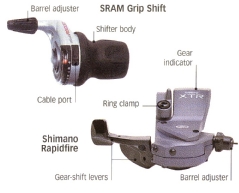 Above: Parts of gear-shift units include:
SRAM Grip Shift: Barrel adjuster, Shifter body, Cable port, and Gear Indicator.
Shimano Rapidfire: Gear-shift levers, Ring clamp, Barrel adjuster
Replacing a Rapidfire gear cable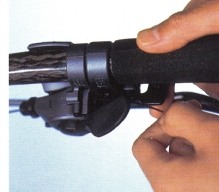 (1) Remove the old cable with needle-nose pliers and put the shifter in the smallest cog or chainring position.
Insert the end of the new, lubricated cable into the hole where the cable nipple sits inside the shifter.
Check the route of your existing cable and follow the route when fitting a new cable in Step 4.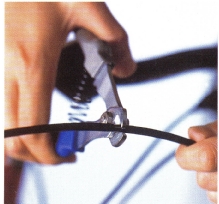 (2) Cut both the cable and cable housings with your cable cutters to the same length as the old ones. Make the housings long enough to let the cable travel freely inside.
Dribble a drop of oil down each cable housing.
Fit a ferrule to the end of each cable housing to ensure that it fits tightly into the frame's cable guides.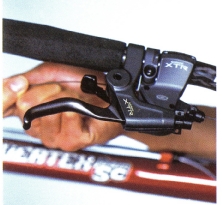 (3) Push the cable into the hole until its end shows through the barrel adjuster on the outside of the shifter body.
Thread the cable through the first length of lubricated cable housing.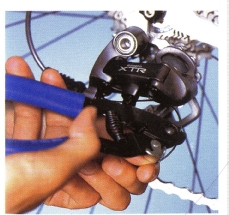 (4) Thread the inner cable through each length of cable housing.
For a rear derailleur, unscrew the barrel adjuster to about half its range and insert the inner cable. For a front derailleur, put the cale into the clamp.
Pull hard with your cable pullers and tighten the cable clamp. Cut off any excess cable.
Replacing a Grip Shift gear cable
(1) Put the rear shifter into the smallest cog and the front shifter into the smallest chainring.
Lift the cable port to reveal the old cable and remove it with needle-nose pliers.
Spray a small amount of light oil into the mechanism while the port is off.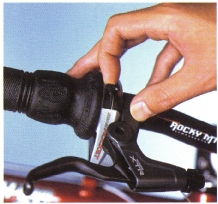 (2) Grease the new cable, insert it into the Grip Shift, and push it until the end protrudes from the other side of the shifter.
Thread the cable through each housing and secure to either the front or rear derailleur as in Step 4 for Replacing a Rapidfire gear cable.
Replace the cable port, cut off any excess, and put a cable crimp on the cable end.