Tools needed:
white marker pen
Silicone sealant
screwdriver
Clipless pedals are designed to hold your feet firmly in place, so it is important that the cleats on the pedals are positioned correctly on the sole of your shoes. The right position also enables you to transfer the maximum amount of leg power into the pedals.
Once you have set up the cleats, you might find that your feet try to return to their natural position as you ride. Alter the cleat's angle to accommodate this. However, do not alter its fore and aft position because the position shown here is the most efficient for applying power to the pedals.
The steps in this sequence show an off-road pedal, but the principles are the same for road pedals.
Below: Parts of a pedal cleat: Recessed cleat plate, In-shoe threads for fixing bolt cleat , Fixing bolts
CLICK HERE to shop for pedal cleats
Read our article on How to Pedal on a Bicycle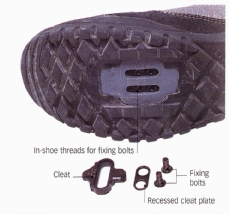 Fitting a pedal cleat
1. Put on your cycling shoes and mark them on the outer side where your foot is widest. This point is usually slightly behind the smallest toe and is in line with the hall of the foot. The aim of setting up a cleat is to make sure that this part of your foot is exactly above the pedal axle when you ride.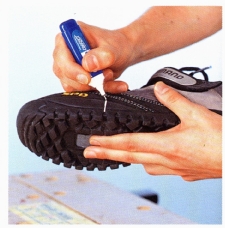 2. Take off your shoes and continue the mark you made with a straight line across the sole of your shoe, from outside to inside. This line must be at right angles to the initial mark and should end on the inner side of the shoe, in line with the initial mark.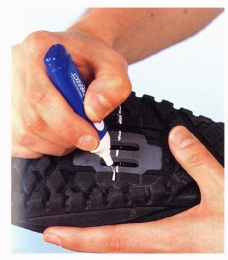 3. Place the cleat on the shoe so that the line runs exactly through its center. Some cleats are marked to help with this alignment.
Make sure that the horizontal axis of the cleat is exactly parallel with the line you made.
Secure the cleat in place with the screws or Allen bolts provided.