Tools needed for most repair/maintenance work on front derailleurs:
Needle-nose pliers
5mm Allen key
Screwdriver
Cable cutters
Front derailleurs shift the chain from one chainring to the next. There are two main kinds: braze-on derailleurs (right) are fixed by an Allen bolt to a lug, or protrusion, on the bike frame; band-on derailleurs are attached to a band that goes around the frame and is part of the derailleur.
There are two important maintenance jobs for a front derailleur: setting it up after fitting a new control cable and adjusting it when it is not shifting properly. You should also clean the derailleur regularly to prevent the buildup of dirt, which interferes with the way it works and will quickly wear it out.
For the derailleur to work perfectly, the lower edge of the derailleur cages outer side should be no higher than 2mm above the largest chainring. The cages outer side must also be parallel with the chainrings.
Correct shifts depend on the front derailleur's traveling a certain distance per shift. High and low adjusting screws on the derailleur will control this travel.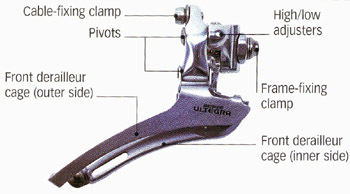 Parts of a braze-on front derailleur:
Cable-fixing clamp
High/low adjusters
Pivots
Front derailleur cage (outer side)
Frame-fixing clamp
Front derailleur cage (inner side)