Jump to a Section on this Page: Books Web sites
Books
These following books are ones I personally have on my bookshelf.

Bicycle Repair Manual by Chris Sidewells. 2004 Dorling Kindersley (DK) Publishing. 160 pages. ISBN: 0756602955

Although not an in-depth manual, this is probably the best book for beginners who want to learn the basics of bike repair. Its small size makes it convenient to carry around. The succinct writing style coupled with hundreds of color photographs and detailed computer-generated diagrams makes for quick, information-absorbing reading.

This is a new publication (2004), and is up-to-date with information on modern bicycles, including topics on different types of suspensions. Coverage of "older" bicycle technology, such as cantilever brakes, is just as complete. top of page




Bicycle Repair Manual
Bicycling Magazine's Complete Guide to Bicycle Maintenance and Repair for Road and Mountain Bikes by Jim Langley. 1999 Rodale Books. 351 Pages. ISBN: 1579540090


This book is slightly dated (1999) and the organization of information could be somewhat improved. However, I like the fact that this book goes a bit into theory -- i.e., it explain "why" something works the way it does. For example, the discussion on gears is coupled with tables and formulas to help you determine the best cassette or freewheel for your particular needs. I found this quite helpful when tweaking my bike for mountain touring.

All illustrations and photographs are in black and white, but because this is a full-sized book, they are large and clear. top of page





Bicycling Magazine's Complete Guide to Bicycle Maintenance and Repair for Road and Mountain Bikes
The Haynes Bicycle Book by Bob Henderson. 2001 Haynes Publications. 192 pages. ISBN: 1563924285.

This is a step-by-step repair and tune-up manual. Repair procedures are clearly sequenced (1, 1a, 1b, 2, 2a, 2b, etc); each procedure usually has a detailed and labeled color photograph (and there are hundreds of all-color photographs in this manual). The book a bit dated (2001), but it seems to cover most of the latest technologies, such as disc brakes and hydraulic shocks. The troubleshooting tables are very helpful. Please note: This is a practical, hands-on "how-to" book. It is not a why-it-works theory book. top of page





The Haynes Bicycle Book
Bicycling Science: Third Edition by David Gordon Wilson. 2004. The MIT Press. 480 pages. ISBN: 0262731541

The book, from the world-renowned engineering school MIT, begins with the history of bicycles and separates facts from myth. It goes on to discuss such topics as human-power generation, bicycle physics and concludes with extensive coverage of all human-powered machines.

This is a highly technical book, often using mathematical formulas, graphs, charts and technical drawings. However, this is not a university-level textbook. If you are technically curious and took high-school algebra, this book will help you learn bicycling science. It is an excellent educational resource. top of page





Bicycling Science: Third Edition
Barnett's Manual: Analysis and Procedures for Bicycle Mechanics by John Barnett. 2003/2004 VeloPress; 5th edition. 1080 pages ISBN: 1931382298.

I can confirm what others commenters have noted on Amazon: if you really want to know the in's and out's bicycle mechanics, this is the reference, containing over 1000 pages. This is not an inexpensive book. But consider it an investment. By doing it yourself, instead of paying a bike shop to do it for you, it can pay for itself many times over.

Here is Amazon's description:

Barnett's Manual has become the industry standard, demystifying every aspect of bicycle repair by emphasizing detail, logic, and measurement. The manual, published in four volumes and printed on perforated, grease-resistant paper, can be used by both bike mechanics and the serious DIY-er. Each chapter is structured logically for maximum use: terminology, reasons for service, prerequisites, tool choices, anticipation of complications, fits and dimensions, service procedures, and troubleshooting. Extensive reference information minimizes the need to cross-reference to other sources when solving a repair problem, and the drawings on nearly every page help explain each procedure. This new, updated edition of the bible of bicycle repair also includes more than 1,000 clear and detailed drawings illustrating each procedure. top of page




Barnett's Manual: Analysis and Procedures for Bicycle Mechanics
Zinn and the Art of Road Bike Maintenance by Lennard Zinn, Todd Telander, Jonathan Vaughters. 2000 VeloPress. 284 pages. ISBN: 1884737706.

This book, along with Zinn and the Art of Mountain Bike Maintenance, Third Edition and several others, was written by someone who actually builds bicycles for a living.

This is a fun book! The maintenance procedures are written in a very down-to-earth, often entertaining style, which is important because bike repair can initially be intimidating. Zinn explains difficult concepts even novices can understand, using well-organized procedures and illustrations.

This book is one of the best-rated bike maintenance books on Amazon.com. Get either the Road or Mountain Bike book based on the type you have. top of page





Zinn and the Art of Road Bike Maintenance

Web sites
Camping and Touring
Ken Kifer's Bike Pages: A well-organized, educational and comprehensive web site from an experienced, long-time biker. Ken was, unfortunately, killed on his bicycle by a drunk driver in 2003.
Commuting
Paul Dorn's Bike Commuting Tips: Lot's of real-world tips from a fellow Californian and serious commuter.
Human Power
International Human Powered Vehicle Association: an association of national associations and organizations, dedicated to promoting improvement, innovation and creativity in the use of human power, especially in the design and development of human-powered vehicles.
News
Probicycle: A bicycle advocacy group with a simple message: "Cyclists should expect and demand safe accommodation on every road, just as do all other users. Nothing more is expected. Nothing less is acceptable."
Repair, Maintenance and Helpful Tips
Jim Langley's Bike Site: Bicycling magazine contributor and former professor of bicycle maintenance at University of California at Santa Cruz, Jim Langley, has put together a very comprehensive web site. There is lots of tips and how-to's, complete with color photos illustrating myriad procedures.
Park Tool, probably the most reputable manufacturer of bike tools, has an excellent repair and maintenance section featuring a unique Bike Repair Map. Please note: Their instructional procedures are based on using specific Park Tools.
Sheldon Brown's classic site. Sheldon's articles and tips cover practically every aspect of bicycle maintenance The Glossary is indispensable.
Safety
Winter Cycling
Icebike: a site created and maintained by winter and cold-weather cyclists. As a former Ohioan -- and winter bike rider -- I can identify with these brave souls!


---
Other:
---
Parts and Supplies
Here are vendor links for various parts and accessories recommended on this web site:

Note: The vendors recommended on this site have earned a reputation for carrying quality bicycle components and accessories...all at a reasonable cost. Some vendors were also chosen based on their independent support of environmental and/or humanitarian causes through philanthropy. Most of the parts and accessories on my bicycles were purchased from these vendors.


Safety Gear: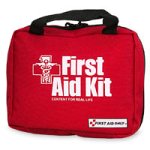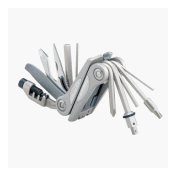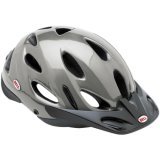 Bell Metro Cycling Helmet (features non-aggressive commuter styling)